As J.K. Rowling said, "A good first impression can work wonders." And the first impression we, as readers, get of a book is the cover. I tend to judge a book by its cover (literally). If it's visually appealing, there's a much higher chance I'll read it, or I'll at least flip to the back blurb.
For this post, I went to my nearest bookstore (aka Amazon on my computer) and searched through my favorite genre to see what lovely book covers gained my attention. After a very fun search, I came up with three book series. I know I missed lots of amazing covers, so I can't wait to hear about your personal favorites:)
3) The Menagerie series by Tui T. Sutherland and Kari Sutherland.
In fantasy stories, I'm not always the biggest fan of having a character(s) as the main draw on the cover. I want to know what types of creatures and magic are waiting for me within the pages. For this series, the cover gives enough hints of things to expect but still leaving some mystery. I also like the colors:)
Story: 5 stars. Loved them all.
2) Five Kingdoms series by Brandon Mull. Some books, even middle grade/YA book covers can have somewhat childish graphics. These visual ones have a more realistic feel to them. The MC is on the cover, but he isn't the main attraction. We immediately know these stories are full of adventure and monsters.
Story: 4.5 stars. Great series of which I am going to be reading the last one during my spring break.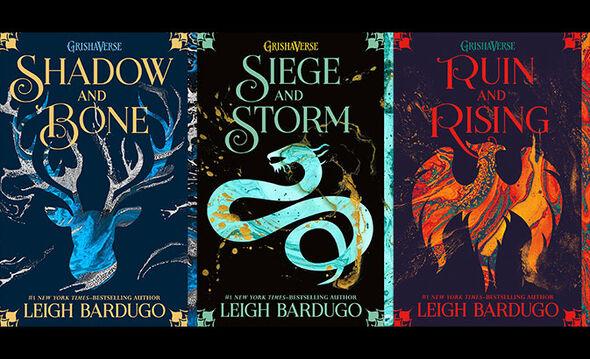 1) The Grisha trilogy by Leigh Bardugo. I haven't actually read these but just stumbled across them in my search on Amazon. Though simpler in appearance than the others, I am intrigued by the animal outlines and especially the colors. I have no idea if I'd like the books or not, but I would certainly flip over to the blurb to see what they were about.
Your turn! Is there a book or a series that has an awesome cover that you love?