I don't know about any of you, but I have three plans for the holidays-relaxing, writing, and reading. To accomplish two of my plans, last night I was skimming through all my books on Kindle looking for one to read while I put on an old movie and then snuggle under a warm blanket to read and
semi
-watch the movie. I tend to buy a lot of the free Kindle books, but sometimes after reading the first sentence or paragraph, I stop and find something else. The first sentence is huge for any novel and can make or break it. So I decided to go through my stash and find the most fun first lines, but I'm narrowing it down to only fantasy for this list.
Number One:
"Lizzie Hearts, the Princess of Hearts, daughter of the Queen of Hearts, heir to the throne of Wonderland's Card Castle, captain of the Ever After High Croquet Team, and hedgehog enthusiast, was holding a knife." From
Ever After High: A Wonderlandiful World
by Shannon Hale.
This book was a fun read from the very beginning. What really got me was the "hedgehog enthusiast" bit. Makes you quirk your eyebrows and wonder what kind of a girl would be so interested in hedgehogs? When reading the first line, I pictured someone dainty who plays croquet, not exactly a robust sport, but then we find she is holding a knife! I'll give a little spoiler if you've never read it...she's only holding a butter knife;)

Number Two:
"My mother named me after a cow's rear end." From
Rump: The True Story of Rumpelstiltskin
by Liesl Shurtliff.
This first line certainly captured my attention. I love the humor in it and voice that comes out in the very beginning.

Number Three: (
I've kinda cheated on this one because I'm including the first three, very short sentences)
"I was born singing. Most babies cry. I sang an aria." From
Fairest
by Gail Carson Levine.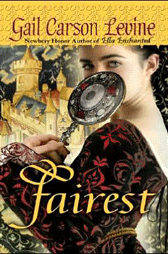 A baby singing an aria? I guess that beats high pitched crying! Gail Carson Levine is one of my favorite authors, who you might know from writing
Ella Enchanted
.
Fairest
is a great book about a girl who believes herself to be ugly but has a beautiful voice. There's also an interesting twist about her heritage that any fairy tale lover should enjoy.

What about you? Do you have any fun, lighthearted favorite first lines to share?